Websites
Selected links to websites especially relevant to spiritual ecology.
---
Ajahn Sumano Bhikkhu http://next-life.com/
Alliance of Religions and Conservation (ARC) - http://www.arcworld.org/
Amador, Andreas, 2014, Earthscapes [sand art, San Francisco, CA] http://www.andreasamadorarts.com
American Horticultural Therapy Association http://ahta.org/.
A Rocha http://www.arocha.org/en/ - http://arocha.us/
Auroville http://www.auroville.org/
Tom Baugh, Transdisciplinary Ecologist
Marc Bekoff, Ecology and Evolutionary Biology, University of Colorado, Boulder http://marcbekoff.com/
Benton, James, 2014, Archaic Drum http://www.archaicdrum.com/.
Thomas Berry and the Earth Community
Gay Bradshaw – The Kerulos Center: Changing the World for Animals http://www.kerulos.org/
Braziers Park http://www.braziers.org.uk/
Julia Butterfly Hill http://www.juliabutterfly.com/
Peter Calhoun – The Alliance of Spiritual Ecology
California Institute for Integral Studies, San Francisco
The Center for Education, Imagination and the Natural World, Greensboro, NC
Center for Humans and Nature [journal Minding Nature, etc.] http://www.humansandnature.org/about-us
Christians for the Mountains [against mountain top removal mining of coal in Appalachia] http://www.christiansforthemountains.org
Cloud Appreciation Society
DeFranco, Barbara, 2016, Paleaku Gardens Peace Sanctuary http://www.paleaku.com/
Earth Charter Initiative http://www.earthcharterinaction.org
Earth Day Network – Faith http://www.earthday.org/faith
EarthLight http://www.earthlight.org
EcoDharma Centre http://www.ecodharma.com/.
Ecological Buddhism: A Response to Global Warming
Ecospirituality Resources
Ecotipping Points Project
Emerging Earth Community
Encyclopedia of Religion and Nature
Ethological Ethics http://www.ethologicalethics.org
The Feather Project: Collaboration Between the Generations for Survival of the Earth http://www.soetendorpinstitute.org/activities/the-feather-project
Foundation for Deep Ecology http://www.deepecology.org
Forum on Religion and Ecology, Yale University
For the archive of previous Forum newsletters visit: http://fore.research.yale.edu/publications/newsletters/.
Franciscan Action Network https://franciscanaction.org/
Franciscan Voice of Canada
Green Home Guide
Guide to Going Green at College- http://www.affordablecollegesonline.org/college-resource-center/going-green-on-campus/
Guide to Green Degrees and Careers- http://www.affordablecollegesonline.org/college-resource-center/green-degrees/
The Global Oneness Project https://www.globalonenessproject.org/
The Golden Sufi Center, Point Reyes Station, CA – Spiritual Ecology: The Cry of the Earth http://spiritualecology.org/publication/spiritual-ecology-cry-earth
Goldsworthy, Andy, 2015, Land Art http://www.goldsworthy.cc.gla.ac.uk/
Roger S. Gottlieb, Philosophy, Worcester Polytechnic Institute
Grab, Michael, 2015, Art of Stone Balance http://www.gravityglue.com/
Green Museum http://greenmuseum.org/
Green Muslims http://www.greenmuslims.org/.
The Green Patriarch, His All Holiness the Ecumenical Patriarch Bartholomew http://www.patriarchate.org.
The Green Prophet http://www.greenprophet.com/.
Green Sisters http://www.sisterfarm.org/eco-spirituality-centers.html
Green Zionist Alliance http://www.greenzionism.org/.
Harcourt-Smith, Joanna – Future Primitive http://www.futureprimitive.org.
Healthy Parks, Healthy People Central [Shinrin-Yoku, Forest Bathing, Japan] http://www.hphpcentral.com/article/forest-bathing
Hokulea – Polynesia Voyaging Society http://www.hokulea.com/.
Holyscapes: Landscapes of Earth and Soul http://holyscapes.wordpress.com.
Institute for Global Studies (formerly Institute of Cultural Ecology) (David Adams) http://www.cultural-ecology.com
Interfaith Declaration on Climate Change (Stuart H. Scott)
Interfaith Power and Light
International Society for the Study of Religion, Nature and Culture
International Society of Nature and Forest Medicine http://www.infom.org/.
Islamic Foundation for Ecology and Environmental Sciences http://www.ifees.org.uk/.
Interfaith Ocean Ethics Campaign (National Religious Coalition on Creation Care and Franciscan Action Network) http://www.oceanethicscampaign.org
Japanese Society of Forest Medicine http://forest-medicine.com/epage04.html.
Jesus, Jazz, and Buddhism: Process-Relational Thinking for a More Hospitable World http://www.jesusjazzbuddhism.org/
Journal for the Study of Religion, Nature, and Culture
Journey of the Universe (Brian Thomas Swimme and Mary Evelyn Tucker)
Satish Kumar
Schumacher College and Resurgence Magazine
Loy, David, Zen Buddhist, Huffington Post Blog http://www.huffingtonpost.com/david-loy/.
Joanna Macy http://www.joannamacy.net
Mauna Kea – from Mountain to Sea (Native Hawaiian website on a sacred mountain) http://www.mauna-a-wakea.info/maunakea/
Bill McKibben http://www.350.org
Christopher McLeod
Sacred Land Film Project/Earth Island Institute
W.S. Merwin – Merwin Conservancy
Jeff Mitchum, 2015, Fine Art Landscape Photography [see Jeff's Work]
Overview Institute http://www.overviewinstitute.org/
Pacific Primate Sanctuary [Maui] http://www.pacificprimate.org/
Palestinian Environmental NGO Network (Pengon) http://www.pengon.org/.
Ann Palmer, Green Gurus, Gaia Dance http://www.gaiadancebooks.com/
Project NatureConnect http://projectnatureconnect.org/
Positive Health Wellness https://www.positivehealthwellness.com/fitness/need-know-pets-improving-health/
Rawles, Bruce, 2015 Sacred Geometry http://www.geometrycode.com/
Religious Campaign for Forest Conservation
Religion Witness for the Earth http://www.rwearth.org/
The Rewilding Institute http://rewilding.org/rewildit/.
Roots and Shoots – Jane Goodall Institute https://www.rootsandshoots.org/
Salish Sea Spiritual Ecology Alliance https://spiritualecologyalliance.org/
Sand Grains: The Art of Science, The Microscope Photography of Dr. Gary Greenberg http://sandgrains.com/
Savage Sailing (Ryan Luskin, Sunny Savage, and Saelyn) http://www.savagesailing.com
Save the Redwoods League, 2015, http://www.savetheredwoods.org/.
Scenic Hawai`i http://scenichawaii.com/
Seeds of Peace [back issues of the periodical of the International Network of Engaged Buddhists] http://www.inebnetwork.org/news-and-media/seed-of-peace
Sheldrake, Rupert http://www.sheldrake.org/
Simply Eco-Spiritual (Katherine Murray's blog) http://simplyecospiritual.blogspot.com/
Standing on Sacred Ground, Earth Island Institute/Sacred Land Film Project http://standingonsacredground.org/, http://standingonsacredground.org/learn-more/directors-statement.
David Suzuki Foundation, Vancouver, British Columbia http://www.davidsuzuki.org
Bron Taylor, Department of Religion, University of Florida
Bron Taylor, ed., Avatar and Nature Spirituality, 2013 http://www.brontaylor.com/environmental_books/Avatar_and_Nature_Spirituality/avatar.html
Tomei, Helen, 2015, Sacred Earth Journeys http://www.sacredearthjourneys.ca/
Transition Movement and Communities
Treehouse Masters
Tribes of Creation (Morgan Brent) http://www.tribesofcreation.com
Mary Evelyn Tucker and John Grim, School of Forestry and Environmental Studies, Yale University http://fore.research.yale.edu/.
Turning Green Careers into Sustainable Careers http://www.affordablecollegesonline.org/college-resource-center/green-degrees/
Vale das Lobas http://valedaslobas.com/
Voorwold, Dietmar, 2015, "Creations in Nature: Land Art" http://www.landart-creations.com/welcome/
Wat Tam Doi Tohn http://vimuttidhamma.org/en/about-wat-tam-doi-tohn
The Whole Earth Catalog http://wholeearth.com/index.php
The Wildlands Network http://www.wildlandsnetwork.org/
Rob Whitehair Films, The Book of Trees, http://www.treeandsky.com
Worldviews: Global Religions, Culture, and Ecology
NOTE: Also, see websites under citations in Films section which may not be listed here, and search Google.com and the Forum on Religion and Ecology (FORE) https://fore.yale.edu/.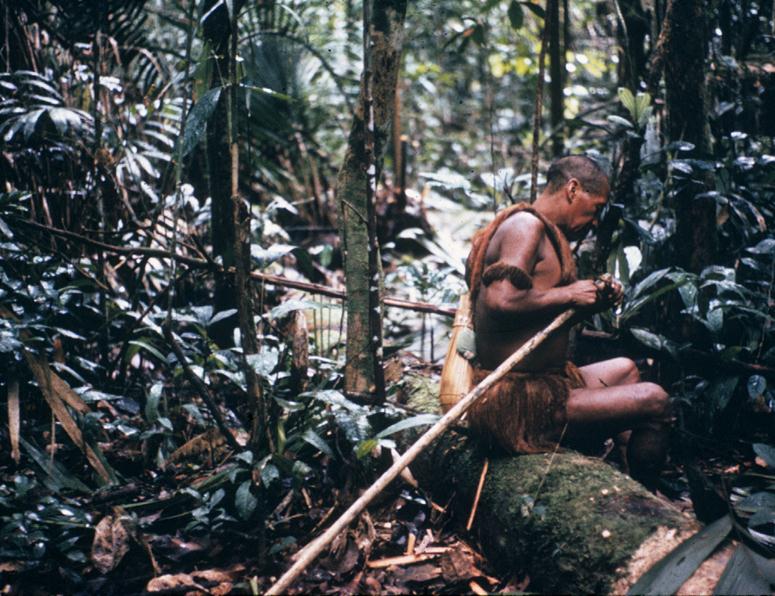 Yagua, Peruvian Amazon